Cuba congratulates Venezuela on its 210th anniversary
2021-07-05 18:22:37 / ACN

---
Cuban Foreign Minister Bruno Rodriguez Barrilla today congratulated the Venezuelan people and government on the occasion of the 210th anniversary of independence.
The Cuban foreign minister wrote on his Twitter account that Bolivar and Chavez's homeland proudly maintains the path to independence, sovereignty and self – determination.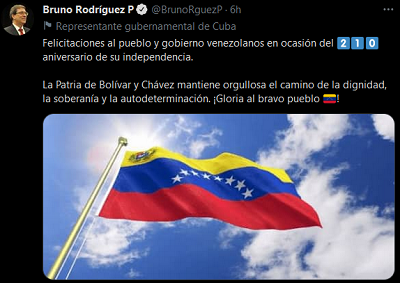 On July 5, 1811, the seven provinces of Venezuela declared their independence from the crown of Spain and established a new nation without a monarchy, under the values ​​of equality of individuals.
In a recent statement to the Venezuelan National Television Network, Bolivian Defense Minister Vladimir Badrino promised that this July 5 would be a wonderful day for the Venezuelan people, who have been victorious over formal aggression.
210 years after the declaration of independence, Badrino confirms that Venezuela is still on the path of independence discovered by Siman Bolivar, and that the strength and unity of the civil-military trade union has been continued by the then revolutionary leader Hugo Chavez Friaz.
---